I guess it all depends on whether you consider the birth of our nation to have occurred in 1765 upon the start of the American Revolution, when the American colonists rejected the authority of the British Parliament to tax them... Or in 1775 at the start of the American Revolutionary War... Orrrr in 1783 at the war's end with the signing of the peace treaty confirming the new nation's complete separation from the British Empire.
July 4, 1776 is actually a date tucked amidst all that upheaval and unrest on which the Declaration of Independence was signed by the Continental Congress declaring that the colonies were free and independent states. So, I guess the argument could be, were we born as a nation when we
declared
we were? Or when we
actually
were? I digress...I may be losing some of you here.
Since when do you write a blog about history, Johanna? Let's leave that to the professionals.
Anyway, that's not really the point I'm getting at here. For the sake of argument (or non-argument?), let's just say today is our nation's birthday. The birth of our freedom as a people from what once ruled over us. The commencement of our staking a claim on our unalienable Rights to Life, Liberty and the pursuit of Happiness. I was pondering on this today...In the Declaration of Independence these Rights are stated to have been endowed to us by our Creator. This begs the assumption that we just possess these things by nature of them being given. Yet, so much of what consumes our nation's attentions and efforts in recent weeks, months and years reflects more of a grasping for what's fleeting, what's just out of reach.
Life...I mean, that's fairly simple. We have it. Well, until we don't. Liberty...mostly simple. We have freedom...but in most cases, only so far as that freedom doesn't encroach upon another's freedom. Now. The pursuit of Happiness. That sounds nice. But fleeting, so temporary. The idea of having to pursue it, to chase after it, to possibly never catch it. To not just have been "endowed" with Happiness, only the pursuit of it, lends one to suppose that the Happiness referred to cannot simply be endowed.
One has to find it?.. Make it?.. Take it?..
Or maybe those who drafted this Declaration knew it's fatal flaw. Life for one could be the death of another. One man's freedom could be another's chains. One woman's oppression could be another's security. Ultimately, what brings happiness to one could cast a shadow of sorrow on another. So they settled on the Right to pursue it, not the promise of attaining it. I'm no historian. Just a thinker of thoughts.
Don't misread my intent, I love my Country tis of Thee, Sweet Land of Liberty. But I am flawed. Our forefathers were flawed. Their Declaration was flawed. Our systems are flawed. We are flawed. So we pursue, but don't procure. We grasp, but never gain. All we can mirror here is but a mere, muddied reflection of what our citizenship elsewhere could be.
"So if the Son sets you free, you will be free indeed." John 8:36
When He
declares
us free, we are
actually
free.
"For freedom Christ has set us free; stand firm therefore, and do not submit again to a yoke of slavery." Galatians 5:1
Which leads me here: One Man's chains
actually
meant my freedom. Not just a freedom in which mine only reaches as far as yours begins. But true freedom, one that
endows
me with eternal Life, Liberates me from being enslaved by my sinful desires, and sets in me a deep, abiding Joy that defies situation and circumstance and makes the pursuit of Happiness pale in comparison. It's in the security of this freedom that I can choose, if necessary, to lay aside my unalienable Rights as a citizen of this world in order to experience a freedom this nation can only declare, never deliver.
"I have the right to do anything," you say—but not everything is beneficial. "I have the right to do anything"—but not everything is constructive. No one should seek their own good, but the good of others. 1 Corinthians 10:23
"But when one

turns to the Lord, the veil is removed.
Now the Lord

is the Spirit, and where the Spirit of the Lord is, there is freedom.
And we all, with unveiled face, beholding the glory of the Lord, are being transformed into the same image from one degree of glory to another. For this comes from the Lord who is the Spirit." 2 Corinthians 3:16-18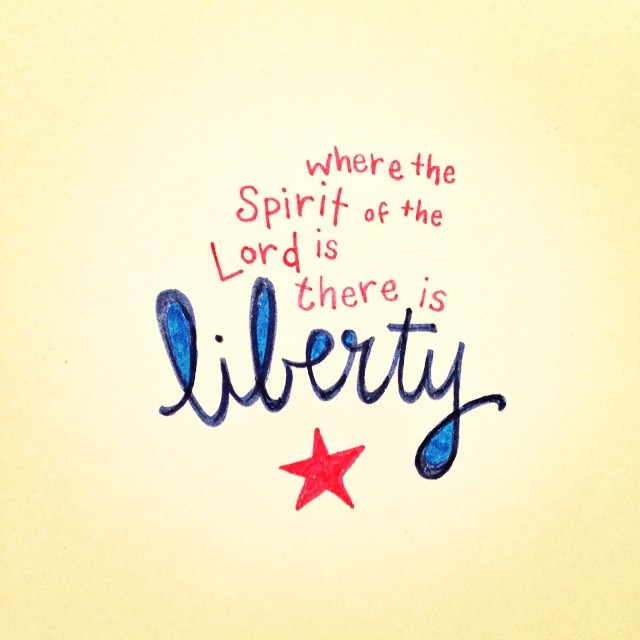 May I be more concerned with my response to the One who purchased my ultimate freedom than grasping for the rights and freedoms of this age that I'd gladly lay down in exchange for what was bought with a price no one else could ever pay.
"Therefore, brothers, by the mercies of God, I urge you to present your bodies as a living sacrifice, holy and pleasing to God; this is your spiritual worship.

Do not be conformed to this age, but be transformed by the renewing of your mind, so that you may discern what is the good, pleasing, and perfect will of God. For by the grace given to me, I tell everyone among you not to think of himself more highly than he should think. Instead, think sensibly, as God has distributed a measure of faith to each one." Romans 12:1-3